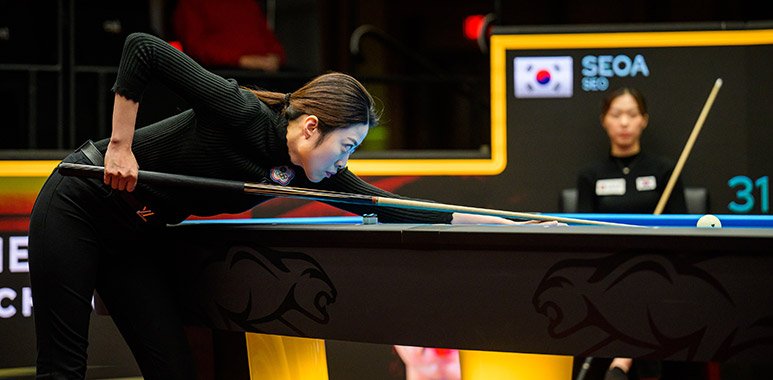 NEW WOMEN'S SHOWDOWN ANNOUNCED BY PREDATOR PRO BILLIARD SERIES
$100,000 prize fund for tournament at Rio All-Suite Hotel and Casino, Las Vegas
The Predator Pro Billiard Series today announced the Women's Showdown, a new $100,000 event featuring 16 elite players which will take place at Rio All-Suite Hotel and Casino, Las Vegas, from February 27 – March 1, 2024, part of the CueSports International Expo.
The PBS Women's Showdown continues the Predator Pro Billiard Series' commitment to the Women's game and fans will be able to watch the action with two live two streaming tables on the new Pro Billiard TV YouTube Channel.
The top eight players on the WPA Women's Ranking after the Predator WPA World 10-Ball Women's Championship will qualify as seeded players for the Women's Showdown. Eight more players will receive Pro Billiard Series invites to join the tournament. All 16 players will earn prize money and the champion will take home $35,000.
The Women's Showdown will begin with a round-robin group stage. Each group will include two seeded players from the WPA top eight and two invited players. The best two players from each group qualify for single elimination.
Vincent Rochefort, Event Manager for the Predator Pro Billiard Series, said: "We are very excited to announce a brand new woman's event. The PBS Women's Showdown is part of Predator and the Pro Billiard Series' commitment to women's pool and we are excited to showcase the best of the best players.
"The PBS Women's Showdown will show the world how strong women's pool is. It will be a fun event with the best players from around the world. We will only have two tables, every match will be streamed live, so there will be a lot of great matches to watch.
"The Women's game is part of the vision of the Pro Billiard Series and we are glad to promote the men's and women's games equally. We are excited to launch the first Showcase tournament. This will not be a one-off but will instead be the beginning of the PBS Showdown, which we are confident will be a new event that is loved by the players and the fans.
"There will be no entry fee for the players and everyone will be paid. Having a $100,000 prize fund is our reward to the players for their hard work, achievements and commitment to the sport. We hope the event will motivate players even more throughout each season as they try to qualify for the next Showdown."
PRIZE MONEY
1st $35,000
2nd $16,250
3rd-4th $8,125
5th-8th $4,063
9th-16th $2,031
TOTAL $100,000
For more information visit www.probilliardseries.com and follow @ProBilliardSeries on social media.