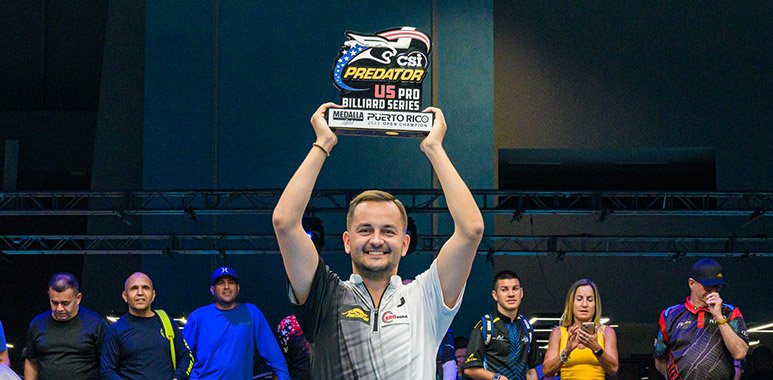 Medalla Light Puerto Rico Open
Konrad Juszczyszyn, the new Medalla Light Puerto Rico Open champion
Konrad Juszczyszyn is the new champion of the 2023 Medalla Light Puerto Rico Open. The Pole earned his first Predator US Pro Billiard Series title and $37,500, defeating Roland Garcia from the Philippines in two sets: 4-2, 4-1.
This match marked a country revenge as last year, Carlo Biado (Philippines) won the title against Daniel Maciol (Poland).
In the semifinals, Juszczyszyn defeated Aloysius Yapp in two sets, while Roland Garcia defeated Joshua Filler, also in two sets. To reach the title, Juszczyszyn won seven matches straight in two sets and one in a shootout against Alex Pagulayan (winner's qualification round).
The Medalla Light Puerto Rico Women's Open will conclude today. The quarterfinals are underway:
Women's Quarterfinals Matchups:
Rubilen Amit vs Wei Tzu-Chien
Jasmin Ouschan vs Chezka Centeno
Wan-Ling Wang vs Chieh Yu Chou
Oliwia Zalewska vs Kelly Fisher
The Women's Semifinals will be played at 2 pm local time, and the Women's Final is set to begin at 5 pm local time.
The action doesn't stop here in San Juan, Puerto Rico, as the quarterfinals of the Predator WPA World Teams Championship will begin tonight at 8:30 pm local time.
Teams Quarterfinals Matchups:
United States vs Austria
Germany vs Spain
Chinese Taipei vs Great Britain
South Korea vs Portugal
Men's Open Results: https://probilliardseries.com/puerto-rico-open-2023/stage-1/
Women's Open Results: https://probilliardseries.com/puerto-rico-womens-open-2023/stage-1/
Teams Results: https://probilliardseries.com/world-teams-2023/stage-1/
▸ Our sponsors and partners for this event are Medalla Light, Predator Group, Kamui Brand, CSI and Rums of Puerto Rico. With the local support of Puerto Rico Tourism company, Discover Puerto Rico, District Puerto Rico and Popular.
▸ This event is played on Predator Apex pro pool tables covered with Predator Arcadia Performance Cloth, with Predator Arcos II balls, and under the Predator Arena billiard lights.